ABOUT THE WINPISINGER CENTER
The William W. Winpisinger Education and Technology Center embodies the IAM's commitment to membership training. The Center's curriculum is comprehensive and concise and includes programs on lodge administration, organizing, collective bargaining, communications, and arbitration. Participants learn how to navigate the changing workplace, advocate for their fellow members, and stand up to unfair bosses and company practices. They return to their Districts and Locals prepared to lead.
The Winpisinger Center is named for former International President William W. Winpisinger, affectionately called Wimpy, who conceived of a facility where members could come together, share ideas, and learn from instructors and each other. His vision of worker education was considered radical at the time.
The IAM is the only union in North America with a facility dedicated to the education of its membership. After forty years, the Winpisinger Center continues to adhere to the original tenets of President Winpisinger's vision. Since its opening in 1981, almost 90,000 participants have attended its programs. Because of our commitment to membership training, the IAM is prepared to meet the challenges of the 21st-century head-on and win.
Today, the Winpisinger Center continues its pragmatic approach to education, grounded in the experiences of the membership and field representatives but never losing sight of innovation in curriculum, delivery, and programming. Wimpy would be proud of his namesake institution and the hard work of every participant who has walked through its doors eager to build strength in the labor movement. We can't wait to see what the next forty years bring.
Robert Martinez, Jr.
International President
Dora Cervantes
General Secretary-Treasurer
William W. Winpisinger Education and Technology Center
24494 Placid Harbor Way
Hollywood, Maryland 20636
Phone: 301-373-3300
Fax: 301-373-2860

Robert Martinez, Jr.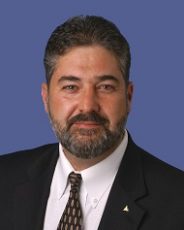 As the 14th International President of the International Association of Machinists and Aerospace Workers (IAM), Robert Martinez Jr. inherits a legacy that spans the history of the North American labor movement. Seasoned by his own 41-year union career, Martinez is committed to aggressively grow the union and protect the contracts and careers of nearly 600,000 active and retired IAM members.
Previous to his January 2016 installment as International President, Martinez had served since 2013 as IAM Headquarters General Vice President (GVP) with responsibility for the William W. Winpisinger Education and Technology Center and many IAM departments at Headquarters.
A U.S. Navy veteran, Martinez began his IAM career in 1980 as a member of Local 776A in Fort Worth, TX after being hired as an Aircraft Assembler at Lockheed Martin's Fort Worth Division.
From 1980 to 1994, Martinez served in various positions with his local lodge before being appointed in 1995 as a staff member in the IAM Safety and Health Department. He also served as a Project Coordinator for the Re-Employment and Safety Training (IAM CREST) and for the Center for Administering Rehabilitation and Employment Services (IAM CARES).
In 1999, Martinez was assigned to serve as the Southern Territory Education Representative with responsibility for training and education for IAM members in 14 southern states. In April 2002, he was appointed as a Special Representative and served in that capacity until joining the Executive Council in 2003 as the General Vice President assigned to the Southern Territory.
In addition to serving on the IAM Executive Council, Martinez sits on the executive councils of the AFL-CIO, IndustriALL, Guide Dogs of America, the Labor Council for Latin American Advancement (LCLAA), the Alliance for Retired Americans, the AFL-CIO Metal Trades Council, the Elderly Housing Development and Operations Corporation (EHDOC), America's Agenda and the Economic Policy Institute.
Martinez was honored with Guide Dogs of America's highest honor, the Gift of Sight Award, and the LCLAA Cesar Chavez Award for his work on behalf of the Latino labor community.
Dora Cervantes,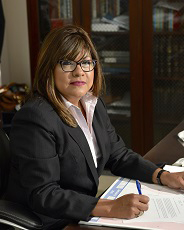 Dora Cervantes became the IAM's 12th General Secretary-Treasurer on August 1, 2015. She is the first woman to direct the IAM's finances as General Secretary-Treasurer.
Cervantes first joined the IAM Executive Council on July 1, 2013, as the first Hispanic woman to serve as a General Vice President. Cervantes has served as the Assistant Secretary to the General Secretary-Treasurer since 2012. As General Vice President, Cervantes worked in partnership with the General Secretary-Treasurer to administer the IAM's financial operations.
Cervantes initiated into IAM Local 2198 in Houston, Texas, in 1989 as a Reservations Agent for Southwest Airlines. She served in many capacities for her Local Lodge, including Organizer, Shop Steward, Recording Secretary, and Vice President.
In 1999, Cervantes was chosen to serve as an Apprentice Organizer for Airline District 142 and became a General Chairperson for that District the following year. By appointment from International President Tom Buffenbarger, she served on the IAM's 2002 Blue Ribbon Commission.
In 2005, Cervantes was appointed to the Grand Lodge staff in the Transportation Department as a Special Representative and was later promoted to Grand Lodge Representative. It was in July of 2012 when Cervantes was selected by General Secretary-Treasurer Robert Roach, Jr. to serve as Assistant Secretary to the GST.
Cervantes currently serves as a National Board Member on the Labor Council for Latin American Advancement (LCLAA), is an active member of the Coalition of Labor Union Women (CLUW), is member of United Against Human Trafficking, and also serves as a Trustee for both, the National IAM Benefit Trust Fund and the IAM National 401(k) Plan.
Fluent in English and Spanish, Cervantes helps teach the Spanish Leadership series at the William W. Winpisinger Education Center. She holds a Masters in Work and Labor Policy, and Women's and Gender Studies from SUNY Empire State College and a Bachelor of Arts Degree in Labor Studies from the National Labor College.